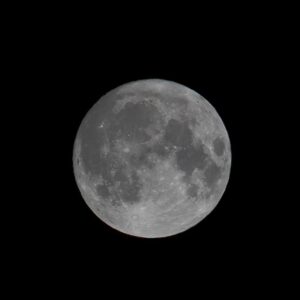 We hear about it all the time. People tell us that the moon is in a certain position or phase, so X will happen. For as long as there have been humanoids on the Earth, we have been looking at the Moon and wondering. Are there aliens? Is there a Man on the Moon? Is it truly made of green cheese? Many of these questions were answered in July of 1969 when Apollo 11 arrived, and Neil Armstrong took his historic "one small step" and walked on the surface.
How it affects us
What has never been answered to most people's satisfaction though is why the Moon seemingly affects us so much. People reportedly go crazy around the time of the full moon. There is no coincidence that the word "lunatic" is ascribed to those who are mad. There was a study done by the National Institute of Health (NIH) in 2011 that found no appreciable uptick in ER cases during full moons. However, talk to anyone who regularly staffs an Emergency Room, and they are prone to disagree. There is some proof that the Earth and its inhabitants are profoundly affected by the Moon. Its gravitational pull keeps the planet from wobbling on its axis, giving us a more stable climate. In addition, it causes changes in the tides, and some animals are so attuned to its rhythms that they time their migration and reproduction by it.
Sympathetic Magick
That said, is it unreasonable to think its effects may be more far-reaching than we currently understand? Magick inherently is influenced by both intention and the cycles of nature. We base rituals on the seasons, times of day, and days of the week as some circumstances are more appropriate for certain types of magick. This method of working by correspondence is a form of sympathetic magick. This is very true of the Moon and the good news is, it's pretty straightforward to figure out which tasks to perform when.
Lunar Phases defined
The Lunar cycle has four main aspects: new, waxing, full, and waning. The new moon is when the moon is so dark it almost appears to be missing from the night sky. Waxing is the period of time between the new moon and the full moon when the moon grows a little bigger and brighter each night. The full moon obviously is when we can see the full face in full brightness. Finally, waning is the portion of each phase when the moon seems to shrink. If you think of these parts alternatively as beginning, growing, completing, and decreasing, this will help.
Corresponding Energy
Today, March 21st, marks the New Moon. This phase is best for workings involving beginnings, rebirth, and preparation. This is a great time to start that project or set intentions for the coming month. The new lunar cycle is commencing, so it is appropriate to perform spells that are likewise at their beginning. It is also a good time for divination related to these endeavors.
The Waxing phase is in place from now until the Full Moon April 6th. Because the light is increasing in this stage, rites for attraction, growth, or anything that you wish to boost or develop should be performed now.
The next Full Moon, the Pink Moon, is so named as flowers are blooming in most places. This is when lunar energy is at its peak. Magick having to do with completion and cleansing are excellent. It is also the perfect time to do things like cleanse tools or crystals or make moon water.
Lastly, the Waning moon, which lasts until the next New Moon, is all about decreasing. Banishing, releasing, and reversing spells work here. The growing darkness also marks an appropriate period for self-reflection in the form of shadow work or getting rid of things that no longer serve you.
Again, the Moon is a powerful force in our lives, whether we are conscious of it or not. It influences the natural world around us and within us. Utilizing its phases to enhance your magickal workings and give them a bit of sympathetic extra energy will help accomplish your goals. It may not be a guarantee, since we never know the greater machinations of the universe, but it can't hurt, right?